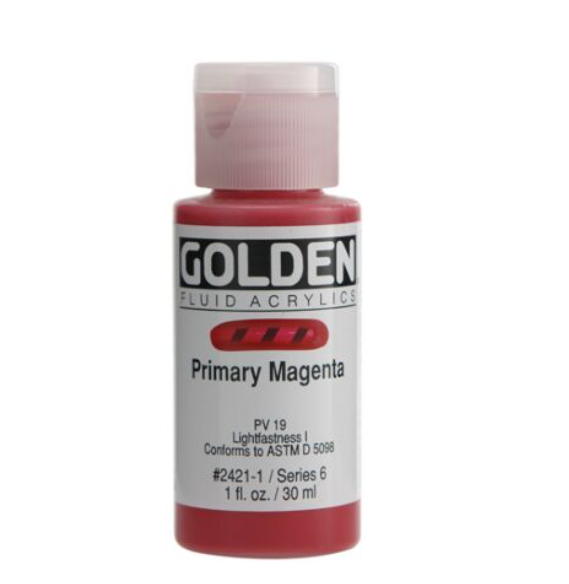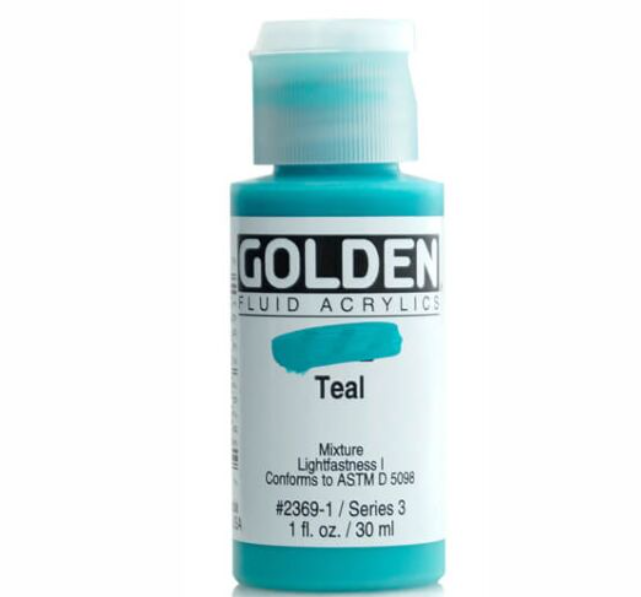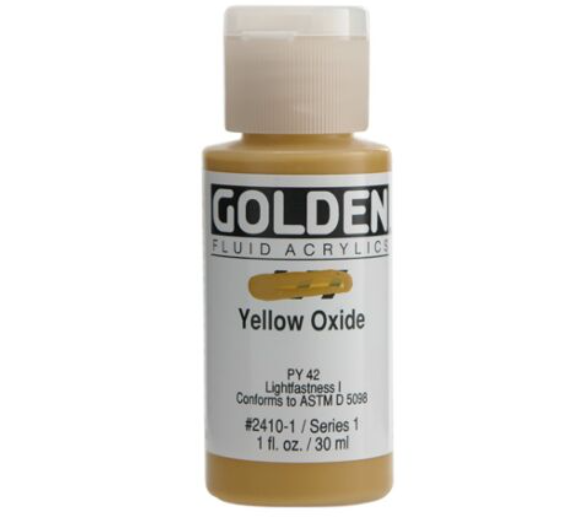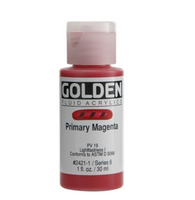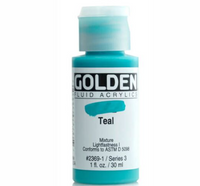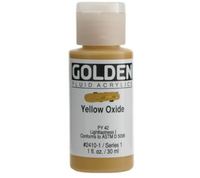 Golden Fluid 30ml
Equal the intensity of GOLDEN Heavy Body Acrylics but with an even, flowing characteristic useful for dry brush application, fine details, pouring, spraying (particularly when mixed with GOLDEN Airbrush Medium), staining techniques and many others.
Fluids are created by loading an acrylic polymer binder with concentrated levels of quality pigments for a wide selection of permanent and lightfast colours. No fillers or extenders are added to achieve the desired consistency, nor is the fluid quality achieved with additional water. GOLDEN Fluid Acrylics have the same pigment load as the Heavy Body Acrylics, but in a viscosity similar to heavy cream. Fluids allow for smooth flowing applications while retaining colour intensity, tinting strength, film integrity, and adhesion.
Fluids blend easily with all acrylic colours, and readily tint gels, mediums, gessoes and grounds. Fluid Acrylics are extremely versatile, and ideal for fine brushwork, glazing, staining, water media techniques and many more. Mix Fluid Acrylics with Airbrush Medium for airbrush application of artwork including textiles. 

Hansa Yellow Opaque


Diarylide Yellow


Primary Yellow


Cadmium Yellow Medium Hue


Nickel Azo Yellow


Transparent Yellow Iron Oxide


Transparent Red Iron Oxide


Quinacridone / Nickel Azo Gold


India Yellow Hue


Vat Orange


Pyrrole Orange


Pyrrole Red Light


Pyrrole Red


Naphthol Red Light


Naphthol Red Medium


Quinacridone Red


Quinacridone Magenta


Quinacridone Violet


Primary Magenta

Cadmium Red Medium Hue

Alizarin Crimson Hue


Ultramarine Violet


Permanent Violet Dark


Dioxazine Purple


Anthraquinone Blue


Ultramarine Blue


Cobalt Blue


Cerulean Blue, Chromium

Phthalo Blue (Red Shade)

Cerulean Blue Deep

Phthalo Blue (Green Shade)

Manganese Blue Hue


Primary Cyan


Prussian Blue Hue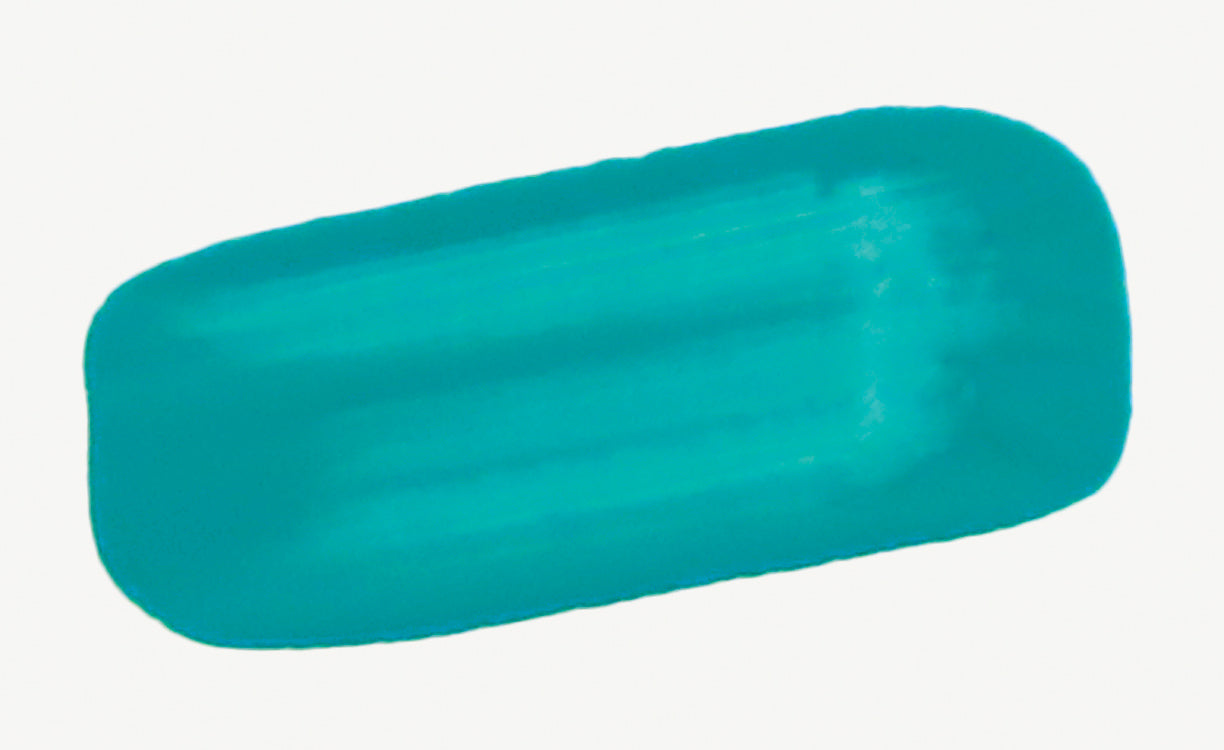 Teal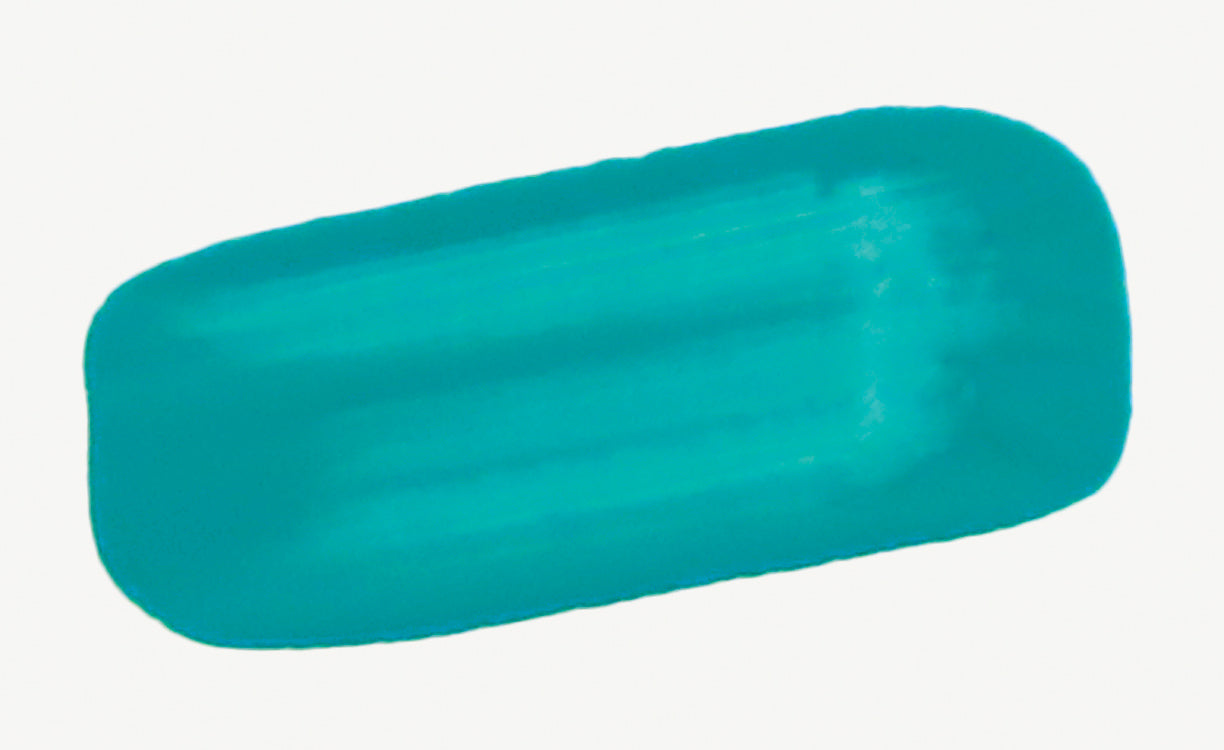 Cobalt Turquoise


Turquoise (Phthalo)


Phthalo Green (Blue Shade)


Phthalo Green (Yellow Shade)


Jenkins Green


Permanent Green Light


Chromium Oxide Green


Green Gold


Sap Green Hue


Yellow Oxide

Yellow Ochre

Raw Sienna


Naples Yellow Hue


Burnt Sienna


Red Oxide


Violet Oxide


Burnt Umber Light


Raw Umber


Payne's Gray


Bone Black

Carbon Black

Titan Buff


Titanium White


Zinc White

Choosing a selection results in a full page refresh.
Press the space key then arrow keys to make a selection.